Al Saeedi Group holds Camso Customer Meet – 24 th October 2016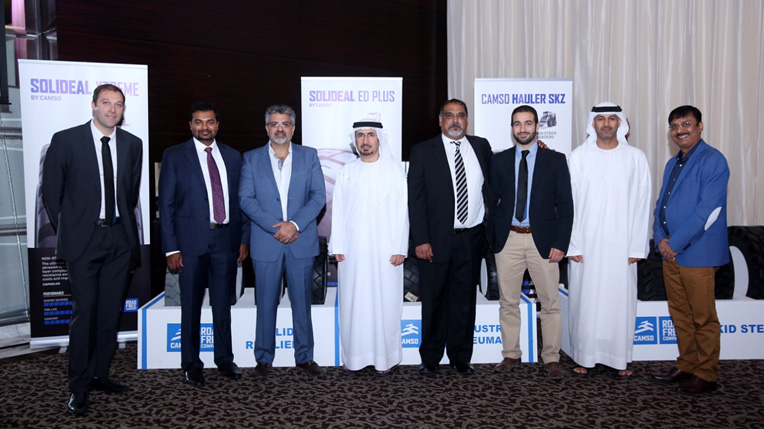 Al Saeedi Group organized a meeting for their Camso, formerly Camoplast Solideal, tyre customers at the Le Meridian Hotel on 24th October 2016.
The event was chaired by Mr. Ferreol Tournebize, Camso Zone Director for Middle East Africa, Mr. Majid Tamoutounour, Business Development Manager Middle East Africa and Mr. Anish Malattiri Director, Al Saeedi Group.
"Camso and Al Saeedi group have been nurturing a business relationship of over 28 years. This partnership has increased the presence of Camso products across the UAE in almost all the industrial and construction equipment segments over the past years, as well as contributed to the wide offering and success of our group," says Mr. Anish Malattiri Director of Al Saeedi group.
It begins in 1984 when Solideal started to produce solid tyres in Sri Lanka. The Solideal leadership team were forward-thinkers and real achievers at a time when forklift tyres where primarily pneumatic and produced in the western countries. These motivations also served the Solideal team when they started to produce pneumatic tyres in 1990 in Sri Lanka, then wheels in 1995, to better serve the needs of the material handling and construction aftermarkets.
Camoplast was found in 1982 and started by investing efforts to develop enhanced tracks for snowmobiles. While becoming masters in the development of belts for original equipment manufacturers (OEM) and for their aftermarket clients, the team began to develop track systems for ATV, UTV and agricultural equipment. In 2010, both companies joined to create one team: Camoplast Solideal. Combining expertise, vision and beliefs moulding them into the leader they are today. In 2015, Camoplast Solideal became Camso, the Road Free Company.
Camso, the Road Free company, is a world leader in the design, manufacturing, and distribution of off-road tyres, wheels, rubber tracks and undercarriage systems to serve the material handling, construction, agricultural and power sports industries. It employs more than 7,500 dedicated employees that place 100% of their effort on 11% of the global tyre and track market—the off-the-road market. It operates advanced R&D centres and manufacturing plants in North and South America, Europe and Asia. Camso supplies its products to leading original equipment manufacturers (OEM) under the names Camso and Solideal and distributes its products in the replacement market through its global distribution network.
"Al Saeedi" UAE's largest distributor for industrial tyres was established in the year 1988 as a small enterprise in Dubai. Quality service and Customer satisfaction being the main motto has helped in gaining admirable reputation and becoming a specialist in tyre distribution and service solution provider across the GCC, INDIA and AFRICA.
Today, Al Saeedi has grown dynamically in UAE and owns eight service centres in strategic locations at Al Quoz, Deira, Dubai Investment Park, Jebel Ali Free Zone, Qusais, Rashidiya and Mussafah. These centres are well equipped with state-of-the-art wheel balancing and alignment facilities along with an exclusive Tyrfil – Polyurethane Tyre Filling system for Industrial Tyres and Air seal Puncture Sealants. Al Saeedi stands proud of being the sole distributor for internationally reputed brands like Camso (Solideal) – Solid, Pneumatic & Industrial Tyres, Triangle – OTR, TBR & PCR Tyres, Nexen – Passenger Car & 4x4 Tyres, Sayan – Truck Tyres, Schrader – Off The Road Tyre Repairs, Rader Vogel – Vulkolan Wheels and Castors, Sicam – Tyre Equipment apart from handling reputed brands like Michelin, Yokohama, Bridgestone, Dunlop, Goodyear, Pirelli.
Our continuous effort to fulfil customer satisfaction has helped in introducing seven unique mobile service units that cater to customer needs round the clock. Al Saeedi Group is accredited with the ISO 9001: 2008 certification for Quality Management and maintains its principal policy of providing exceptional and top class service to all its customers from product availability to fitment of tyres and after sales service.