IN THE NEWS
Al Saeedi awarded at Triangle Global Summit at Weihai, China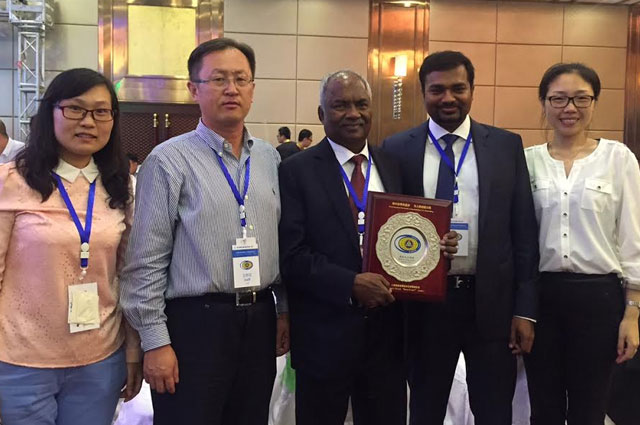 Triangle Brand "Goes Global" Summit was held on Sep. 28th and 29th in Weihai, Shandong. The theme of this summit was "Bring Progress to the Society, Create Civilization for Human Being".

Al Saeedi was one of the ten recipients to receive the Global Branding Award at an evening gathering for the Triangle importers. Al Saeedi is the sole distributor of Triangle OTR in UAE, QATAR and OMAN. They are also the authorized service providers for Triangle tyres with Caterpillar in these countries.

This summit attracted more than 400 people from more than 100 countries.They got together to communicate with each other on the topics of global brand building, brand cognitive, brand technological content etc. and to discuss the opportunities and challenges under the conditions of economic new normal in order that we could build consensus and seek common future.

During the summit, Triangle's cooperative partners from North America, Australia, Russia, India, Iran, and Kazakhstan made speeches about brand building. Senior management of Triangle R&D, manufacturing and marketing also made speeches to introduce basic condition and development prospect of improving global brand during Triangle's technological innovation and production mode transform.

Mr Ding Yuhua, chairman of Triangle Group, made a speech named "Build brand economy, Achieve global development". He has expressed that Triangle always regards brand as core of its development. During the transition from Chinese local brand to global brand, Triangle has successfully realized product's serialization, branding and marketable globalization by insisting on innovation as well as regarding improving technological element, safety performance, environmental protection performance and energy-saving performance as kernel

Al Saeedi has been associated with Triangle since 2010 and has actively increased the brands presence through their service network in UAE, Qatar and Oman. Currently they also have four service engineers who have completed training course with Triangle in china and are now certified triangle engineers to attend technical support to their clients in these countries. Lately, the company has also been actively promoting Triangle's vast range of Truck tires & patterns among the major fleet companies in the UAE.