IN THE NEWS
Michelin partners with Al Saeedi Group - Open MTSC AND TYRE PLUS IN JEBEL ALI FREE ZONE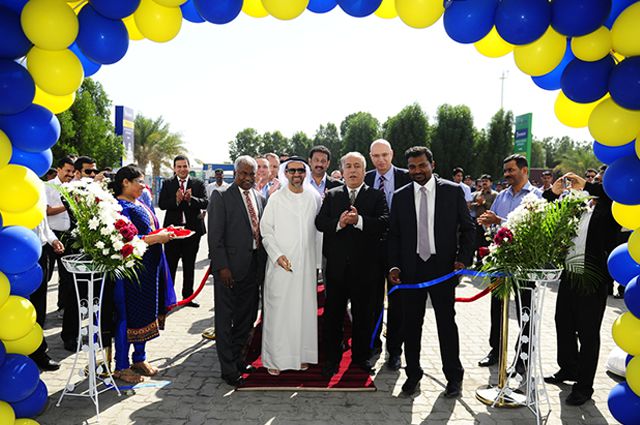 Dubai, UAE, February 25th 2015
Michelin, worldwide leader in tyres and mobility, and Al Saeedi, the largest tyre dealer in Dubai, jointly announced the opening of a new Michelin Truck Service Centre branch (MTSC) in Jebel Ali Free Zone (JAFZA) in Dubai, UAE. Spread over 10,000 sq. feet, MTSC is equipped with state of the art facilities including a computerized truck tyre alignment machine, truck tyre balancing machine, truck tyre repair machine, tyre fitment & removal, and offers end to end tyre-related services for trucks and buses. Products include new tyres, batteries, valves and extensions. The new MTSC branch was inaugurated by Mr Iqbal Khoory - Senior Vice president Global Procuremet DP WORLD, Mr Srinivas Chitturi, MTSC Manager for Michelin Africa India Middle East (AIM), and Mr Anish Malattiri, Director of Al Saeedi, in the presence of other guests and officials.

"This strategic investment will help Michelin and Al Saeedi to grow faster in a very dynamic transportation sector," said Mr Chitturi from Michelin AIM. "It will not only deepen the availability of Michelin products and services, but will also help to meet the growing expectations of transporters for quality products and services. Michelin AIM opened its first MTSC in 2009, now operates 20 centres in KSA, UAE and Oman, and will have 25 centres by the end of 2015," Mr Chitturi added.

Moreover, Michelin also opened a new Tyreplus branch in the JAFZA area on the same day, to further strengthen its franchise presence in the region. The new branch, the 21st outlet in the UAE, was also inaugurated by Mr. Iqbal Khoory Sr. Vice president Global Procurement DP WORLD , Mr Herve Skrzypczak, Tyreplus Franchise Manager for Michelin AIM, and Mr Kuttan Malattiri, Managing Director of Al Saeedi Middle East.

Tyreplus, a franchise network deployed by the Michelin Group worldwide since 2002, is a one-stop-shop offering a wide variety of all major tyre brands, lubricants, batteries, suspension and braking systems all under one roof for customer convenience. It also offers professional services such as alignment, air conditioning refilling and nitrogen inflation.

Tyreplus offers its services in 15 countries and has 1500 branches worldwide. The company presently has 60 branches in KSA and 40 branches in other GCC countries. In the UAE, Tyreplus outlets are located in Dubai, Abu Dhabi, Fujairah, Al Ain and the Northern Emirates. It is the first franchise network in GCC.

Al Saeedi established in 1988 with a clear vision to become the Number 1 tyre supplier and service provider for customers and institutions in the UAE. Looking back, Mr. Kuttan Malattiri says that togather with his dedicate staff, he was able to set up over 7 professional tyre service centres in Dubai to provide quality services to their clients. Over the past two decades Al Saeedi group has solidified its reputation as a specialist in tyre distribution and service solutions.This centre with the Michelin partnership will definitely add value to the customers in the JAFZA area Mr. Malattiri added.