Services
Mobile Tyre Service
Al Saeedi offer a wide range of following quality services: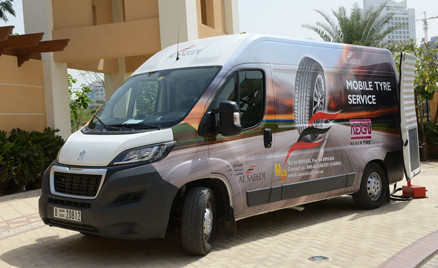 Al Saeedi has SIX units that are equipped with a tyre changer, air compressor, the necessary tools and accessories and are maintained by THREE technicians per unit to carry out the job swiftly and professionally at a nominal charge.
This service is provided to our major fleet customers in and around Dubai round the clock. The service includes checking the tyre pressure, inspecting the conditions of the tyres on the fleet and providing details on their findings.

Mobile Tyre Changing
Al Saeedi offers Mobile tyre changing service for our fleet customers and it can be very useful, when any of your fleet vehicles need emergency tyre changes. Our expert of technicians and mobile tyre servicing personnel will ensure that your mobile tyre service requirement is met quickly and efficiently. From mobile tyre fitting to tyre alignment, pressure checks and inspections, our team will carry out all necessary measures to ensure you have a hassle-free experience.